Sostenibilità, autenticità e innovazione sono i nostri valori
Sostenibilità, autenticità e innovazione sono i nostri valori
Siamo tre sorelle, Laura Teresa e Mara a capo di un'azienda agricola e del primo studio di Floral Design completamente BIO nel cuore della Toscana.
Dopo aver intrapreso strade diverse e aver lavorato in varie parti d'Italia nel campo delle arti applicate, nel 2014 abbiamo deciso di tornare alle nostre origini con in mente un progetto innovativo: la creazione di un giardino specializzato nella coltivazione di fiori e fogliami stagionali e un laboratorio di composizione floreale.
Siamo partite dalla raccolta di fiori selvatici, graminacee e varietà spontanee, oggi coltiviamo con passione oltre 200 specie e 400 varietà di fiori e fogliami
Crediamo nella bellezza che ci circonda e vogliamo promuovere il gusto semplice e armonioso della nostra campagna, ci ispiriamo al lavoro paziente del giardiniere e ci impegniamo a proteggere questo luogo e a fare scelte sostenibili.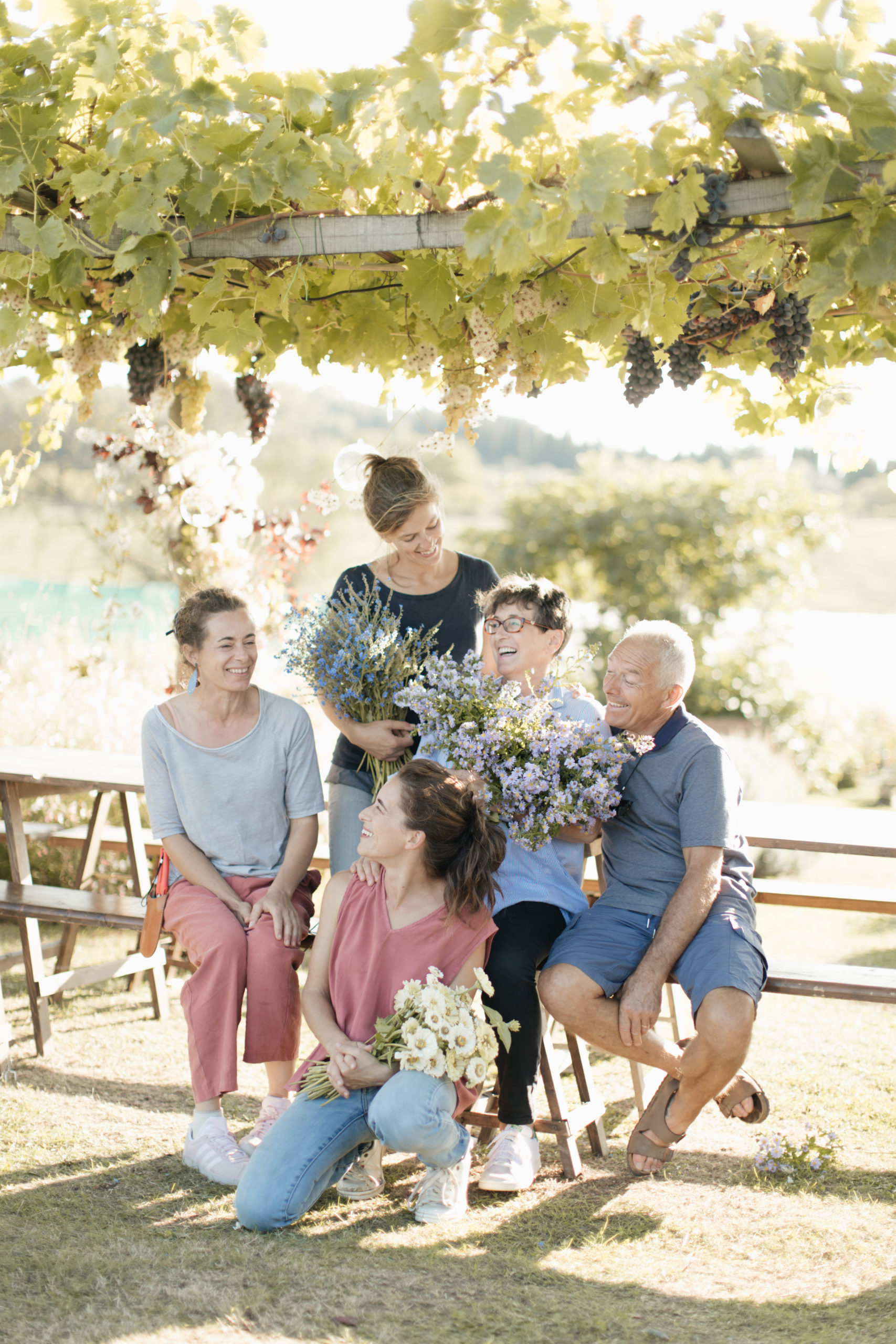 Puscina perfectly understands what you're looking for and creates something even better than you've imagined! Super professional with an innate taste. Seriously, she's got a gift! Wildflowers, never predictable. The best!
Grazie per il fantastico lavoro che avete fatto per il matrimonio di mia sorella.
Quando ho visto il suo bouquet da sposa ho quasi iniziato a piangere perché era così bello. l'arco floreale per la cerimonia e i fiori per la cena hanno superato le mie aspettative. E' stato un vero piacere lavorare voi!
Wonderful service, so sweet & polite! Not to mention, the most beautiful flowers I've ever seen! Made the decor of my wedding day look so fresh & charming
I just wanted to thank you for being so helpful and making our wedding day so beautiful. Everything went just as we wanted (minus the cold:)). The flowers were absolutely gorgeous, so fresh and tender, really gorgeous! From the bouquet to the ceremony flowers to the table, everything was so romantic! Grazie mille!!! We are very happy we have chosen you!
Puscina Flowers was marvelous, personal, and lovely to work with in every way. Our flowers were stunning, above and beyond our expectations!
Thank you very much again for making our day so great and everything looking magical with your flowers.I hope to see you again one day (I really would like to join one of your workshops one day).
Sending you warm greetings and lots of love
What an amazing experience with these enterprising sisters. Their charming farm, knowledge, hospitality and delicious food made for a great day in my vacation to Italy and Tuscany. Loved it!
Working with Puscina was a dream. We were so excited to support a female-led business and were especially excited to work with and support a business that so mindfully honors and draws its inspiration from the earth. The floral arrangements created for our wedding day were just exquisite and truly more magnificent than we could have ever imagined. Our table and ceremony creations, my bouquet, our boutonnieres and corsages…they were absolutely incredible. We are still in awe of the playful, natural beauty of it all and feel so grateful that our paths crossed with this special place.
I wanted to thank you again so much for the amazingly beautiful flowers and set up for our wedding. My bouquet was goergeus, you picked the essence of our emotions and tastes with minimum guidance and that's what talent is about…everybody was amazed by your flowers